Finally a product (ECOSTAR) that reduces fuel consumption by up to 70%! It uses German Nano Technology and has the following certifications and endorsements :

✅ NOVO Environment Tech, Singapore
✅ TUV Cert Rheinland, Germany (https://www.tuv.com/world/en/product-certification.html)
✅ European Emission Standards – Euro 4
✅ Puspakom (https://www.puspakom.com.my/)
✅ MPOB – Malaysian Palm Oil Board http://mpob.gov.my/
✅ Chartis (Liability Insurance of RM2.8 million)
BENEFITS OF ECOSTAR

1️⃣ Protects & lubricates the combustion chamber.
2️⃣Eco-friendly & non-corrosive.
3️⃣Improves engine performance.
4️⃣Lubricates valve/piston & reduces "knocking" and "pinging" sound.
5️⃣Reduces fuel cost by up to 70%.
6️⃣Reduces smoke emmission.
7️⃣Cleans injectors and carburetors.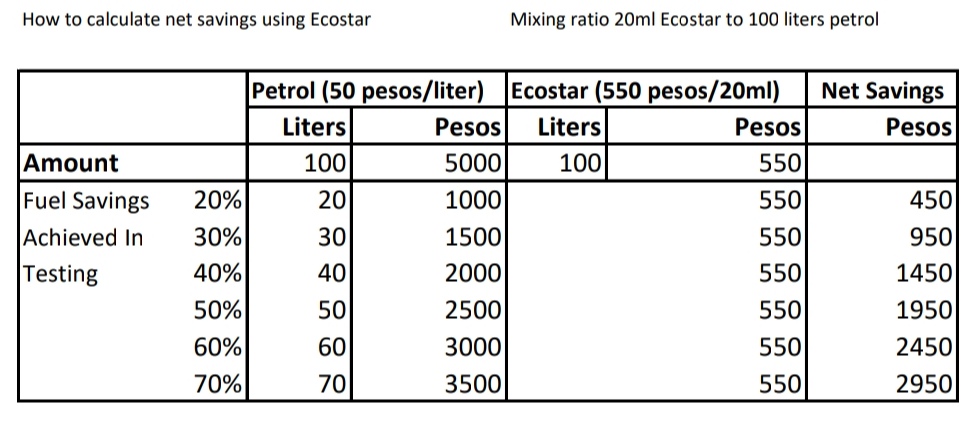 How to add Ecostar into the petrol nozzle. Before doing that, shake the bottle and open the cover and the ring attached to it.
​​​​​​​
Notice the reduced engine noise after adding Ecostar into the engine oil. The effects will be seen after about 5 minutes of the engine running while ramming on the accelerator a few times. Even the RPM will be reduced.
Even a Bentley is using Ecostar. This car costs 16.4 million pesos. Besides this beautiful car, there are more than 40,000 vehicles in Malaysia alone using this product that just came into the market less than 1 year ago.
This car travelled on a highway at a distance of 160km. He used to spend 1,400 pesos but after using Ecostar, the amount has been reduced to 585 pesos only. That is a savings of 58% !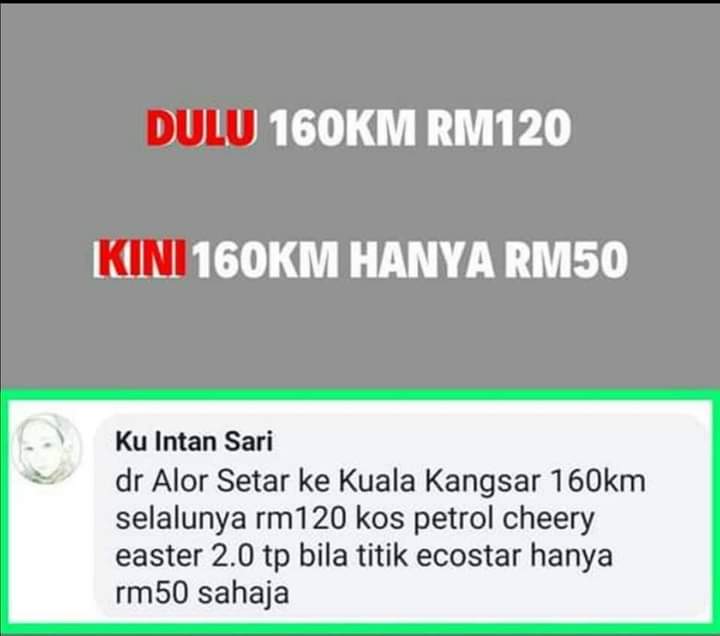 This boat using a 200hp mercury engine saved more than 50% on his fuel after using Ecostar.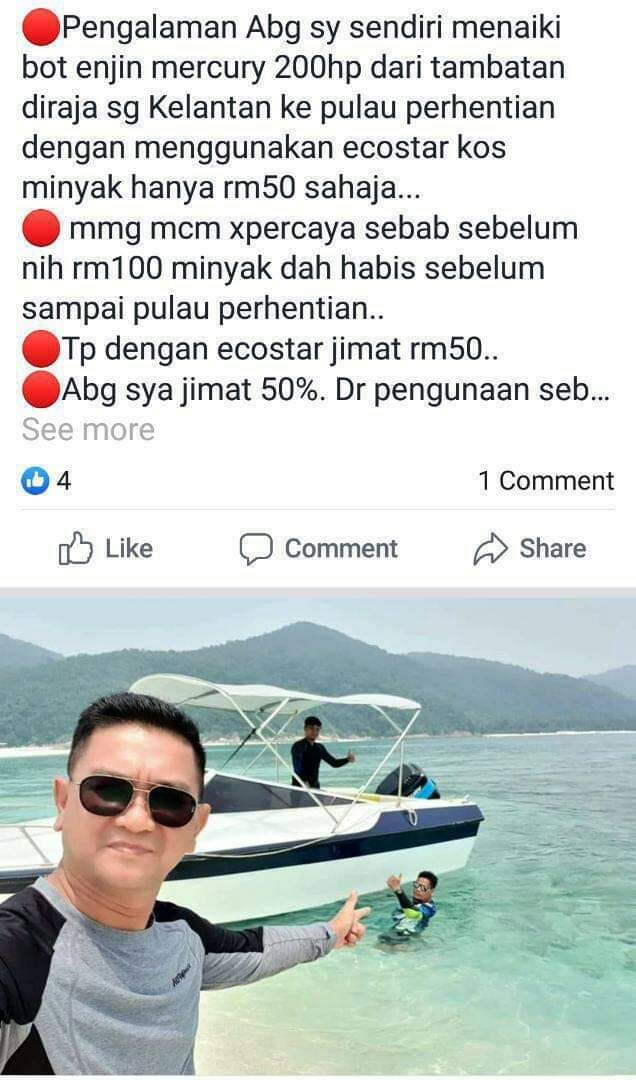 Malaysia Transport Minister attending a roadshow and supportive of our product.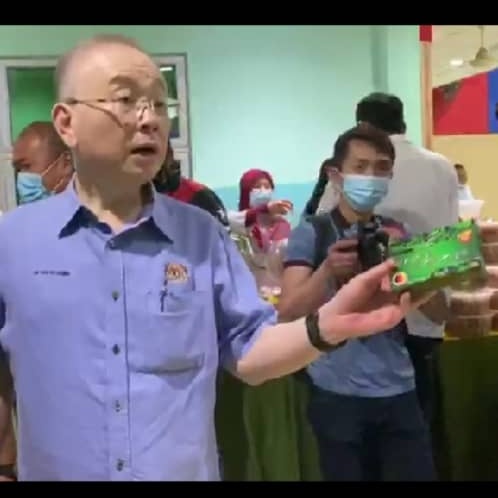 How to calculate fuel savings
Method 1
​​​​​​​
1) Fill up fuel to full tank without ECOSTAR and record the mileage.

2) Drive to a certain destination at say 10pm when traffic is low.

3) Distance should be about 80km and preferably at a constant speed of say 70km per hour.

4) Choose a highway where the speed can easily be maintained.

5) Then pour fuel to reach full tank again and record the fuel cost and mileage.

6) Drive as normal for a few days until your tank is almost empty.

7) Shake and pour half a bottle (remove the red ring too) of ECOSTAR into the engine oil. Pour again ECOSTAR when the engine oil is changed.

8) Pour half a bottle (if fuel tank size is 50 liters) of ECOSTAR into the fuel pump nozzle facing upwards and fill up fuel until full and record mileage.

9) Each bottle of ECOSTAR can be used in 100 litres of fuel.

10) Repeat steps 2, 3, 4 and 5.

11) Compare how much the fuel cost for both scenarios and see the savings.

12) You should save up to 70 per cent in fuel cost after 2 or 3 rounds of full tank (with ECOSTAR) being done.

13) During the cost calculation, kindly note the price per liter of fuel as it may change weekly.
Method 2
1) If your drive regularly on a similar route and distance, just calculate your fuel cost in week 1 (without ECOSTAR) and then add Ecostar in week 2 and compare.
WhatsApp Me Here